About Us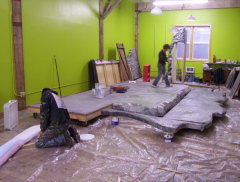 Lunar Theatrical builds scenery and provides technical services for theatrical productions and other events. We have facilities for traditional wooden scenery construction, as well as both steel and aluminum fabrication. We also have expertise in rigging, mechanical moving scenery, automation, and special effects.
Lunar Theatrical is a continuation of the independant work of Demetri Pavlatos. For many years Demetri has been involved in the theatre community while simultaneously being an employee of other organizations. A few years ago he decided to make his theatre work full-time, and the result is Lunar Theatrical. In addition to his professional work, Demetri is the technical director at Saint Mary's Academy, teaching the students to build the sets for school productions and to work with lighting and sound.
From 1990 until 2006 Demetri was employed by Studio Concepts, Inc. where he engineered and built the mechanical animation systems for parade floats in Portland, Pasadena, and Phoenix. Prior to Studio Concepts, Demetri was on the staff of the Portland Civic Theatre from 1987 until it closed in 1990, and before that worked for R.A. Reed Productions.
A few of our talented people:
Paul Sandmeyer:

Paul is an excellent scenery builder. He has worked for SCI 3.2, Stage Right, Chris Whitten Design and Display, Clackamas Community College, and Stage House in Las Vegas. He has helped build the sets for the Broadway Rose summer musicals for many years, and has been a key part of all recent Pixie Dust Productions shows.